Ethereum eli EHT on tällä hetkellä yksi maailman tärkeimmistä kryptovaluutoista. Ethereumin toimintarakenne ei välttämättä avaudu kertaheitolla maallikolle, mutta onneksi siihen sijoittaminen on sen sijaan melko mutkatonta puuhaa. Ja parhaimmillaan myös tuottoisaa – kyseisen valuutan avulla on myös Suomeen leivottu äkkirikastuneita miljonäärejä.
Jos olet kiinnostunut Ethereumin ostamisesta tai aprikoit, mihin jo ostamasi kryptovaluutat kannattaa sijoittaa, jatka lukemista. Löydät tältä sivulta vertailun parhaista Ethereum-lompakoista sekä sijoittamisessa hyödyllistä yleistietoa Ethereumin historiasta ja tulevaisuudesta.
Mitä eroa Ethereum-lompakoilla on?
Oikeanlainen lompakko on tarpeen, kun teet kauppaa Ethereumilla tai millä tahansa muulla kryptovaluutalla. Lompakkovaihtoehtoja löytyy lukuisia, ja niiden paremmuus riippuu monista eri asioista.
Parhaat Ethereum-lompakot
1. Coinbase
Coinbase on tällä hetkellä eräs maailman suosituimmista kryptovaluuttojen säilytys- ja ostopalveluita tarjoavista yrityksistä. Sen kiistaton etu on helppo käyttöliittymä, joka sopii erityisen hyvin aloitteleville sijoittajille. Ethereumin lisäksi Coinbase tukee myös Bitcoinia, Litecoinia sekä monia muita suosittuja kryptovaluuttoja.
Coinbasen käytön aloittaminen on helppoa. Palveluun rekisteröidytään täyttämällä lomakkeeseen nimi, sähköpostiosoite ja salasana. Sen jälkeen tili luodaan nappia painamalla. Rekisteröinnin jälkeen tili täytyy vahvistaa nettikasinoilta tutun KYC- eli Know Your Customer -prosessin avulla. Henkilöllisyys vahvistetaan lähettämällä palveluun kuva henkilöllisyystodistuksesta sekä lisäksi esimerkiksi sähkölaskusta, jossa käy ilmi osoitetietosi. Sinun täytyy myös vahvistaa puhelinnumerosi.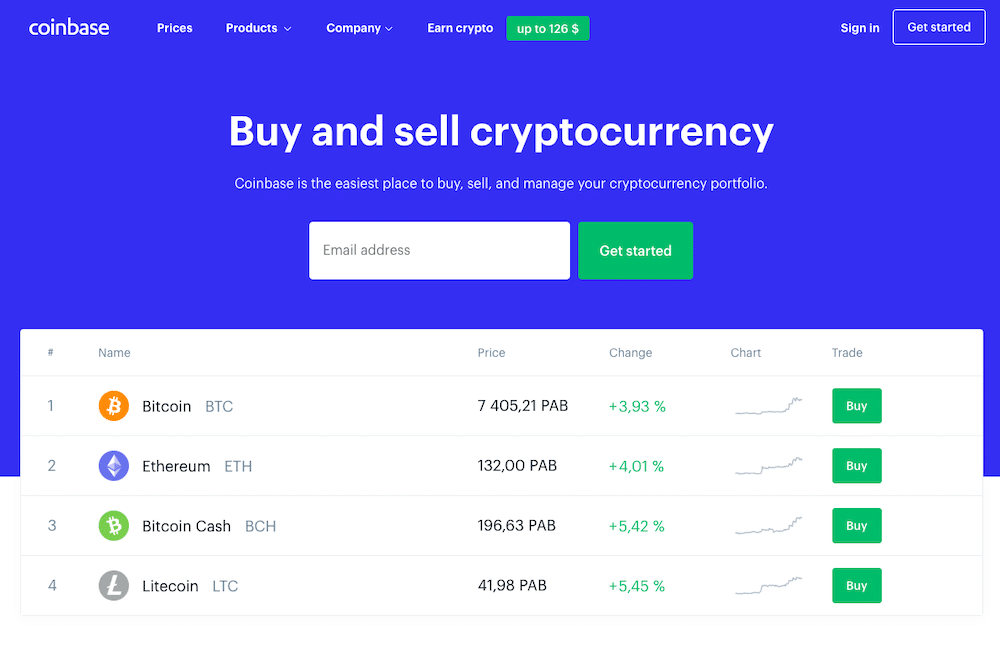 Kun KYC-prosessi on hoidettu, pääset tekemään Coinbaseen talletuksen. Voit siirtää rahaa suomalaiselta pankkitililtäsi tai käyttää luottokorttia. Suosittelemme tekemään ensimmäisen talletuksen suhteellisen pienellä summalla, jolloin voit varmistaa tehneesi kaikki toimenpiteet oikealla tavalla. Tallettamisen jälkeen pääsetkin itse asiaan, eli Ethereumin ostoon.
Coinbasen käyttäminen on ilmaista, mutta kaupankäynnistä ja rahojen kotiuttamisesta peritään kulukorvaus. Rahojen kotiuttaminen tapahtuu yleensä vuorokauden sisällä, ja korvaus on 0,15 € per kotiutus. Myynnistä ja ostosta peritään 1,49 % ostoprovisio.
Coinbase on moniin muihin online-palveluihin verrattuna turvallinen paikka Ethereumin säilytykseen. Kun otat lisäksi käyttöön kaksivaiheisen autentikoinnin (2FA), ei tilillesi pääse kirjautumaan ilman puhelintasi.
Vinkki: Jos olet käyttänyt aikaisemmin suomalaista Coinmotionia ja haluat sijoittaa Ethereumiin, voit tehdä sen siirtämällä esimerkiksi Bitcoineja tai Litecoineja Coinbasen tilillesi ja vaihtaa ne sen jälkeen suoraan Ethereumiksi.
Kenelle Coinbase sopii?
Coinbase on kätevä yleislompakko sekä kevyt ja helppokäyttöinen kryptovaluuttapörssi. Coinbase tukee Ethereumin lisäksi monia muitakin kryptovaluuttoja, joten sen käyttäjä voi helposti laajentaa sijoituksiaan. Coinbase sopii erinomaisesti aloitteleville sijoittajille.
2. Jaxx ja muut monivaluuttalompakot
Jaxx on suosittu ja helppokäyttöinen lompakko-ohjelma Ethereumin tallettamiseen. Jaxx tukee yli 70 eri kryptovaluuttaa, ja se on saatavilla Androidille, iOSille, Windowsille sekä monelle muulle alustalle.
Jaxx-lompakon sisällä voit vaihtaa kryptovaluuttoja toisiin, joten se on kätevä usean eri valuutan käsittelyyn. Jaxxiin voi myös tuoda Ethereumia paperilompakoista.
Jaxxin hyviä puolia ovat sen hyvä turvallisuustaso sekä mahdollisuus käyttää ohjelmaa useilla eri alustoilla. Jaxx on saanut hyvää palautetta myös toimivasta asiakastuestaan.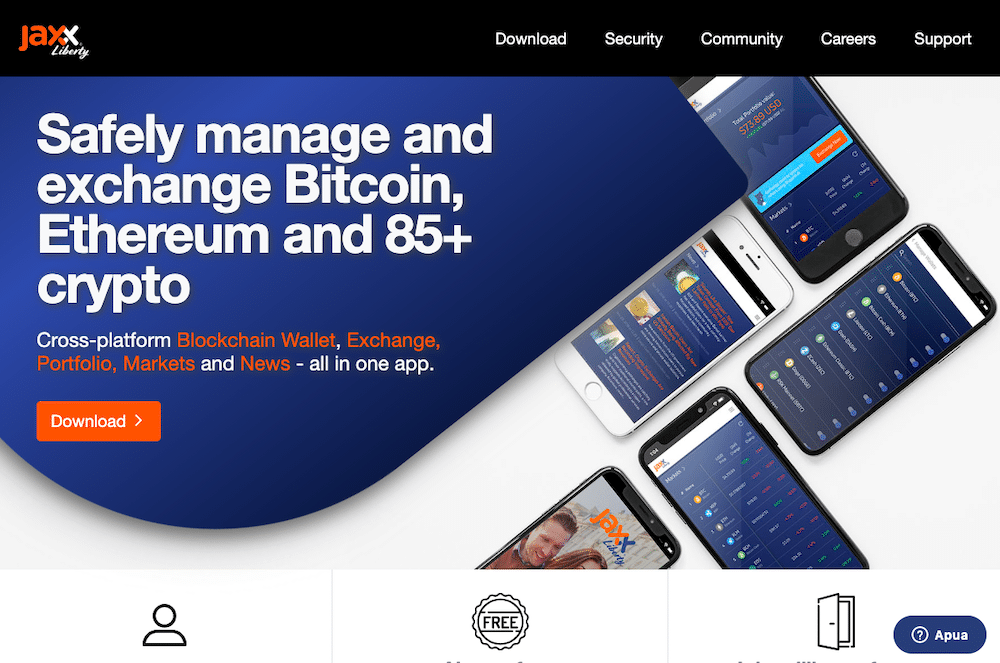 Kenelle Jaxx sopii?
Jaxx soveltuu parhaiten ETH:n ja muiden kryptovaluuttojen käyttölompakoksi. Pidempiaikaiseen Ethereumin säilytykseen kannattaa harkita offline-lompakoita tai paperilompakoita.
3. Nano Ledger S ja muut offline-lompakot
Offline-lompakot eli hardware-lompakot tulevat ajankohtaiseksi silloin, kun Ethereumia ja / tai muita kryptovaluuttoja alkaa olla hallussasi pikkusummia enemmän. Offline-lompakkojen etu on niiden turvallisuus, sillä lompakko ei ole yhteydessä internetiin. Kun haluat käyttää Ethereitäsi, kytket lompakon verkkoon yksityisen avaimen kautta.
Nano Ledger on offline-lompakkojen pioneeri. Se näyttää perinteiseltä USB-tikulta, mutta pitää sisällään varsin järeät turvallisuusominaisuudet omaavan älykortin. Nano Ledger S kytketään tietokoneeseen USB-portin kautta, ja siinä on navigointia helpottava, kahdella näppäimellä varustettu OLED-näyttö.
Nano Ledger S on erittäin suosittu offline-lompakko Ethereumien, Bitcoinien sekä muiden kryptovaluuttojen talletukseen. Sen ainoa huono puoli on muihin lompakkoihin nähden kallis hinta, joka pyörii 70 – 100 euron kieppeillä. Yleisenä nyrkkisääntönä sanotaan, että Nano Ledger S on hintansa väärti vasta vähintään 1000 euron arvoisille sijoituksille.
4. Paperilompakot
Paperilompakolla tarkoitetaan ihan oikeaa paperia, jossa on kirjoitettuna tai tulostettuna salausavain tai "seed phrase" -lause. Paperisten lompakoiden idea on, että ne eivät ole yhteydessä internetiin. Näin niitä ei siis voida hakkeroida. Paperiset lompakot ovat järkevä vaihtoehto silloin, kun tarkoituksenasi on säilyttää Ethereumejasi pitkän aikaa yhdessä paikassa eikä myydä niitä heti.
Ethereumin ostaminen
Ethereum on tällä hetkellä Bitcoinin jälkeen suurin kryptovaluutta, joten sen ostopaikoista ei ole pulaa. Ostopaikat eroavat toisistaan esimerkiksi maksutapojen suhteen – osassa voit ostaa Ethereumisi luottokortilla ja toisissa esimerkiksi Bitcoinilla. Ethereum-kauppaa käydään usein mantereittain, eli suomalainen asiakas valitsee yleensä eurooppalaisen kaupankäyntiportaalin.
Moni virtuaalivaluutan ostaja käyttää kriteerinä myös yksityisyyttä. Jos haluat tehdä kauppaa mahdollisimman anonyymisti, on paras vaihtoehto tehdä kauppaa suoraan myyjän ja ostajan kesken ilman välikäsiä ja maksaa ostokset virtuaalivaluutalla.
Ethereum pähkinänkuoressa
Ethereumilla tarkoitetaan avointa ohjelmistoalustaa, jolla on oma erillinen lohkoketju. Ethereum-lohkoketjuun on mahdollista luoda omia tokeneiksi kutsuttavia kryptovaluuttoja.
Vuonna 2013 esitelyä Ethereumia pidetään toisen sukupolven kryptovaluuttana, siinä missä esimerkiksi Bitcoin on ensimmäisen sukupolven kryptovaluutta. Itse asiassa Ethereum tarkoittaa kirjaimellisesti ottaen koko Ethereumin ekosysteemiä ja Ether siitä kohdettua kryptovaluuttakolikkoa, mutta puhekielessä Ethereumia käytetään myös valuutan nimenä. Ether toimii eräänlaisena Ethereum-alustan polttoaineena.
Ethereum ei ole pelkkä maksuväline
Ethereum on eräs maailman käytetyimmistä lohkoketjualustoista. Se siis ei ole pelkkä maksuväline, vaan alusta monille erilaisille hajautetuille sovelluksille. Ethereumin kehittäjä Vitalik Buterin työskenteli aikaisemmin Bitcoinin parissa, ja hän halusi laajentaa sen platformia ulottumaan myös virtuaalisen valuutan ulkopuolelle.
Ethereum-ekosysteemiä voidaan käyttää moniin eri tarkoituksiin. Yksi tärkeimmistä ovat erilaiset älysopimukset, jotka ovat Ethereumin lohkoketjuun ohjelmoitavia, erilaisia ehtoja sisältäviä sopimuksia. Näitä sopimuksia voidaan käyttää kahden henkilön tai vaikkapa ohjelman välillä. Älysopimusten hyvä puoli on, että niitä ei voi peukaloida jälkikäteen millään tavalla. Hajautetun ohjelman koodi toteuttaa sille annetut käskyt sataprosenttisesti.
Ethereumin alustaa käytetään tällä hetkellä myös esimerkiksi henkilötietojen hallintaan sekä joukkorahoituskampanjoiden ja äänestysjärjestelmien kehittämiseen liittyvissä projekteissa.
Hajautetut autonomiset organisaatiot eli DAO:t (Decentralized Autonomous Company) ovat yksi Ethereumin innovatiivisimmista käyttötavoista. DAO tarkoittaa täysin itsenäistä organisaatiota, ja ne toteutetaan Ethereumin lohkoketjuun kirjoitetuilla älysopimuksilla. Koodin avulla organisaation johtamiseen ei tarvita tavallisia sääntöjä tai rakenteita, sillä päätöksistä äänestämiseen saa oikeuden token-omistusten kautta.
The DAO-hakkerointitapaus jätti jälkensä Ethereumiin
Ethereum lähti kehittymään vauhdilla vuoden 2016 aikana. Samana vuonna se melkein kohtasi myös loppunsa, kun hakkerit onnistuivat hyödyntämään sen koodista löytynyttä haavoittuvuutta.
Hakkeroinnin kohteena oli The Dao -niminen projekti, jonka tavoitteena oli pystyttää itsenäinen pääomayritys älykkäitä sopimuksia käyttämällä. Projekti rahoitettiin myymällä tokeneita, ja rahoitusta saatiin kerättyä noin 150 miljoonan dollarin edestä.
Kun rahat oli kasattu, onnistui tuntematon hakkeri varastamaan The DAO:n pääomasta 50 miljoonaa dollaria. Hakkeroinnin teki mahdolliseksi tekninen virhe, mutta Ethereumin perustajat joutuivat lopulta ottamaan vastuun tilanteen korjaamisesta muuttamalla lohkoketjun koodia. Isku oli kova, sillä Ethereumin toimintaidea perustuu transaktioiden ehdottomaan vapauteen kaikesta manipulaatiosta.
Kaikki Ethereumin perustajat eivät olleet tyytyväisiä ratkaisuun. Tästä syystä Ethereum lopulta jakautui kahteen erilliseen lohkoketjuun: Ethereum Classiciin sekä Ethereumiin.